Welcome to Chapel Hill, North Carolina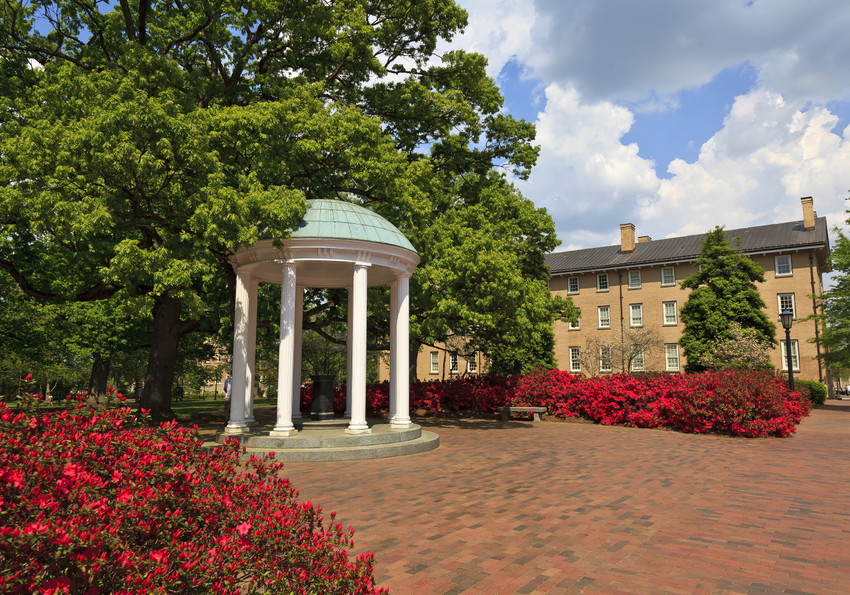 Chapel Hill is one of the most historic communities in North Carolina's Research Triangle area. This thriving town grew up around the prestigious University of North Carolina-Chapel Hill (UNC), which was established in 1789 as one of the nation's first public universities. Today, Chapel Hill features a bustling downtown, easily accessible college campus, and neighborhoods with both a historic and modern feel.
---
Chapel Hill Statistics
89ºF / 68ºF
Summer Climate
50ºF / 29ºF
Winter Climate
---
Live, Work, and Play in Chapel Hill
Because UNC is one of the three anchoring institutions of Research Triangle Park, Chapel Hill is one of the three "points" of the Triangle area along with Raleigh and Durham. Though smaller in population than these two major cities, Chapel Hill boasts plenty of big-city amenities. Residents can cheer for the Tar Heels at UNC sporting events, tour attractions like the North Carolina Botanical Garden, and shop at destinations like Franklin Street and the University Place mall. Let us introduce you to the area.
Top Employers
Blue Cross Blue Shield of NC
Chapel Hill-Carrboro City Schools
Town of Chapel Hill
UNC Health Care system
University of North Carolina
Local Schools
Chapel Hill-Carrboro City Schools
Chatham County Schools
Orange County Schools
University of North Carolina
Area Attractions
The Carolina Inn
Carolina North Forest
Johnston Mill Nature Preserve
North Carolina Botanical Garden
UNC Finley Golf Club
Want to learn more about Chapel Hill, its job opportunities, and its residential communities? We offer a wealth of resources on our website to educate you about the area and your home buying options. Choose a resource below to find more information.
Chapel Hill Real Estate Stats
Linda Craft & Team, REALTORS® has helped individuals and families with their Chapel Hill relocation needs for over 30 years. As the #1 real estate team in the Triangle, we are here to help you find your new home and connect with the Greater Raleigh community. Call us at 919-235-0007 for more information to get started.
---