Moving to a New Raleigh Home
-Expert John Helminski PsyD.
John F. Helminski, Psy.D. , ABPP

Licensed Psychologist
---
My wife Peg and I were excited about our move from Minnesota to North Carolina. After years of planning, we were finally escaping the long, snowy winters as well as moving on to long-targeted career opportunities. Our children, aged 18, 14 and 10, didn't share our enthusiasm. They worried about the many uncertainties of moving to a new home and town. Worse, they were angry about leaving behind good friends and comfortable routines.
Moving at any age is stressful. Packing up a home and attending to seemingly endless details can take a toll on even the most resilient of adults. However,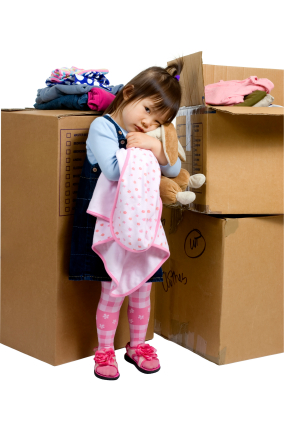 young children and teens can have a particularly difficult time managing stress before and after a move. As a child psychologist, I have heard plenty of stories from parents and children about the sadness of leaving a familiar home and community, the worries about attending a new school and making friends, and difficulties adjusting to a new and unfamiliar town.
Parents may become keenly aware of their child's distress about moving only after behavioral or emotional problems develop that are not in keeping with their child's usual mood or behavior. Some of these problems might include:
· varying degrees of sadness,
· isolation,
· tantrums,
· picking fights with siblings or good friends,
· defiance with parents or teachers,
· and academic difficulties when this had not been an issue before.
The good news is twofold:

1) these changes in mood and behavior are usually temporary, and

2) parents can take action to limit their child's adjustment problems and help effect a successful transition.
Here are some things Peg and I found useful to help our children:
Listen to your child's feelings about the move.

Encourage your children to talk with you about the move. Make sure to let them know that it's OK and normal to be sad and worried. Check in regularly: before, during and long after the move to talk about feelings. Kids tend to process negative emotions in little doses over a much longer span of time than adults.
Let them know that the family is in this together .

"I know you're sad, honey. Mommy is going to miss her friends, too. But daddy and I have thought this out very well and we think this is the best decision for our family." A hug and an attitude of "I know this is tough, but we'll get through this together," goes a long way. If appropriate, share with them your own experiences of moving as a child or teen, and what you did to adjust to moving.
Help them form some positive expectations about the move.

Let them know that moving to a new place can also be an exciting adventure. To minimize 20 years of accumulated junk and reduce the expense of moving, we held "the garage sale of the century" before our move. We urged our kids to part with their outgrown or unloved toys even as we parted with well worn furniture. We encouraged them to dream about the new items they would buy with their proceeds --after we had moved to "our new home." Their dreams changed a hundred times as we drove across the country, but new toys have now found a place in our new home.
Help replace their displacement before it happens!

Our youngest daughter was born in China. Many of her closest friends are also Chinese. Knowing that there was a good Chinese language school with lots of potential Chinese girlfriends (and a good Chinese grocery store) in our new town was high on her list of concerns. We researched these resources via the internet, communicated via e-mail with the principal and made visits to these places very soon after the move.
Ask for your child's input and suggestions.

It's true that almost all decisions about a move are made by mom and dad. Children often have no say about the move. Encourage them to provide ideas about decorating their new room, choosing flowers for a garden, and other areas where they can be helpful. After laying down some discussion guidelines, we even allowed our kids to work out bedroom choices among themselves. Once we stepped out of the process, their well-reasoned solution amazed us! They all settled into rooms that best suited their needs.
As much as possible familiarize your children with their new home, school and town early in the process.

If possible before the move, take your children on a tour of the family's new home. Go on a tour of their new school to meet teachers and coaches. For our eldest son, the family athlete, this was particularly important. If home and school tours are not possible make sure they get to see lots of pictures and that they explore their new school's website.
Make sure your children know where their special belongings are packed.

Treasured objects like teddy bears, baseball gloves, dolls, books all have meaning to our kids. Our middle child worried that his special things would be lost. We helped him pack the items and label boxes. We also let him reserve a few cherished possessions to take along in the car on the trip to the new home.
Keep their friend-connections open

.

Acknowledge your children's special ties with friends and relatives left behind. Let them know that although the relationships will be changing, they will still be able to keep in contact through phone calls, letters and email. If it will be possible for your family to return for a visit after the move, let your children know when the visit might occur, so they can tell friends when they will see them again.
Peg and I are convinced that there is no such thing as a stress-free move. But with some planning that respects the emotional needs of even the youngest family members and open lines of communication throughout the process, even a move across the country (with teenagers!) can be an opportunity for a family to grow closer.
Dr. John Helminski is a psychologist in private practice in Cary, North Carolina. He has over 20 years of experience providing counseling and therapy for children, teens and adults. He can be reached at (919) 434-9824 or at johnhelminski@aol.com . His website is: JohnHelminski.com